Turkey is one of the leading countries for the classic Gulet Charter Routes. Gulet production rate is high. As a result, you can easily find many Luxury Category Gulets in Turkey.

Of course, gulets were quite simple in the past times. Lately, gulets are providing wide spaces and comfort to the passengers. These beautiful ships are now more refined and benefit from the latest technological innovations. For example; They are using late-model engines and electrical systems. They have internet connectivity. Luxury gulets have television and entertainment systems. And in every cabin air-conditioning is available. In addition, they are using the latest navigation systems and safety aids. And of course, you will find beautiful interior furnishings and interior designs.
  When stepping on a high category gulet, you may  think that you are entering a five-star hotel.
  Luxury gulets are very well specified and offer many cabin configurations to suit groups of all sizes. These specifications make these gulets a popular option for charter. A luxury gulet cabin should include; 
A good level of comfort,
Vast space,
Air-conditioners for cabins,
 Well-equipped bathrooms,
 de-luxe toilets and showers,
Air-conditioned lounge with a seating group,
Television and music system,
Nice bar,
Large terraces with enough sun loungers,
Seating to meet the needs of all guests,
Watersports,

Last but not least; a professional crew that is willing to provide for your needs.
Luxury Gulet Production in Turkey
  Turkey continues to build gulets at full speed. Everyone can easily find the gulet that suits their needs. There are some shipyards that make quality gulets in Bodrum and Istanbul. Moreover, different gulets are produced in Fethiye, Antalya, and Bozburun regions.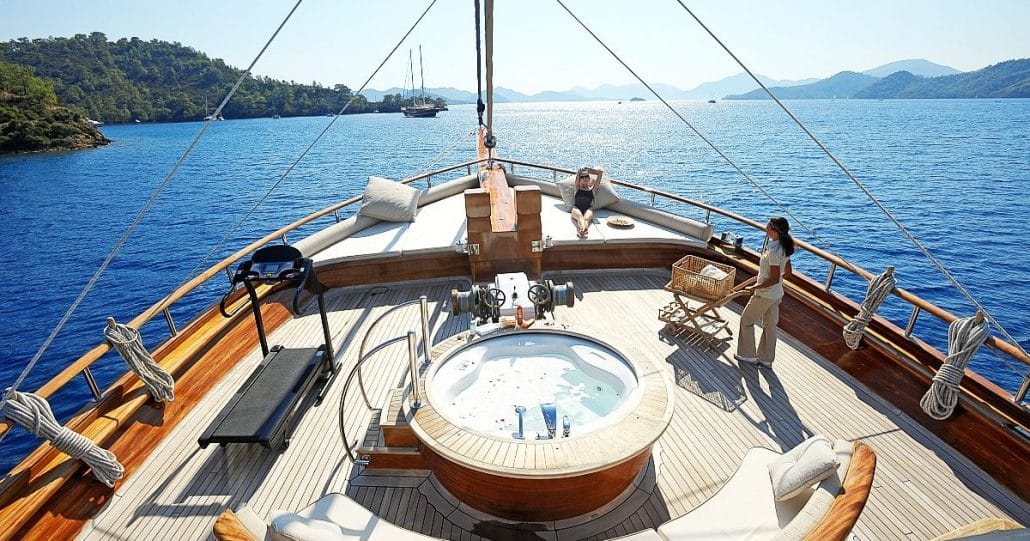 If you want to charter a gulet, Turkey is a good option. Because Turkey's climate, heavenly panoramas, historical places, and magnificent coastlines ravishing. Turkey also offers you the best destinations for quality tours. Your luxury gulet will be well-equipped. With lots of enjoyable tourism-city alternatives like Marmaris, Göcek, Fethiye, Bodrum, and Antalya; (If you want to learn more about these destinations, click here.) Turkey is prioritized by many adventurers to charter a luxury gulet.