Rent a Luxury Yacht / Gulet for Sailing Holidays in Turkey
Turkey has long been established as a key provider of yacht rental of all types, from basic cabin charter models to top of the range luxury VIP category models. These classic, large, comfortable, crewed yacht charters, have provided wonderful holidays and lasting memories for many families and groups over the years. Read our article to know more about luxury yacht rental in Turkey.
However, in Turkey, you can also rent many other types of yachts including; a great range of sailing yachts, catamarans, cruisers, and Motor Yachts, that are moored in the many fantastic base ports all around the Aegean and Mediterranean coastline, commonly known as the Blue Cruise route.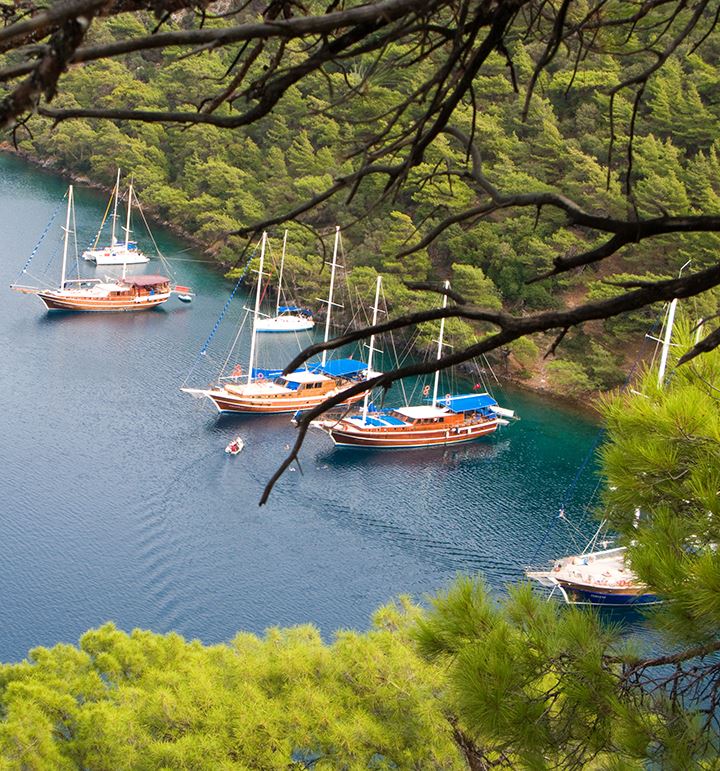 Sailing Holidays in Turkey & Greek Islands with Luxury Yacht / Gulet
We can offer so many wonderful yacht rental choices in Turkey, from our vast portfolio of yachts. Simply decide what category of yacht you require, the number of cabins and proposed dates. Then we select suitable choices to offer you that match up with your requirements.
You will never be disappointed with yacht rental in Turkey, luxury, or otherwise. It's not too difficult to find a luxury gulet that makes you happy and feels comfortable without paying high charges that saddens you. Of course, early booking is an important fact for this. Not only is there a vast range of quality yachts to choose from, but the location is also just stunning, whichever area you choose to visit. Every coastline has characteristic places that charm people easily when they visit. Historical ruins, the combination of nature and sea and the scenery you are going to come across are unique and fascinating.
You will be bowled over with Turkish the warmth of hospitality, fantastic and healthy cuisine, fascinating history and culture. Plus, great shopping and nightlife if that is what you desire too. You can customize a cruise route to accommodate many possible options, to experience as part of your vacation. Turkish cuisine has various kinds of food that you probably have never tasted similar to them.
Some guests may choose to stay and relax onboard, whilst others participate inland excursions and sea sports options. Thus, giving all of your guests' the flexibility and option to pursue their own interests too. Turkey offers all possibilities for your luxury yacht rental.
Please contact us for our very best and latest offers and more information we will feel more than happy to answer any questions you may have. Sailing with a private gulet… This experience will
provide you with wonderful memories that will last forever, turn your dreams into reality maybe. Just treat yourself and try a new kind of holiday. You are not goin to be regretful for sure.