Gulet Charter in Turkey
.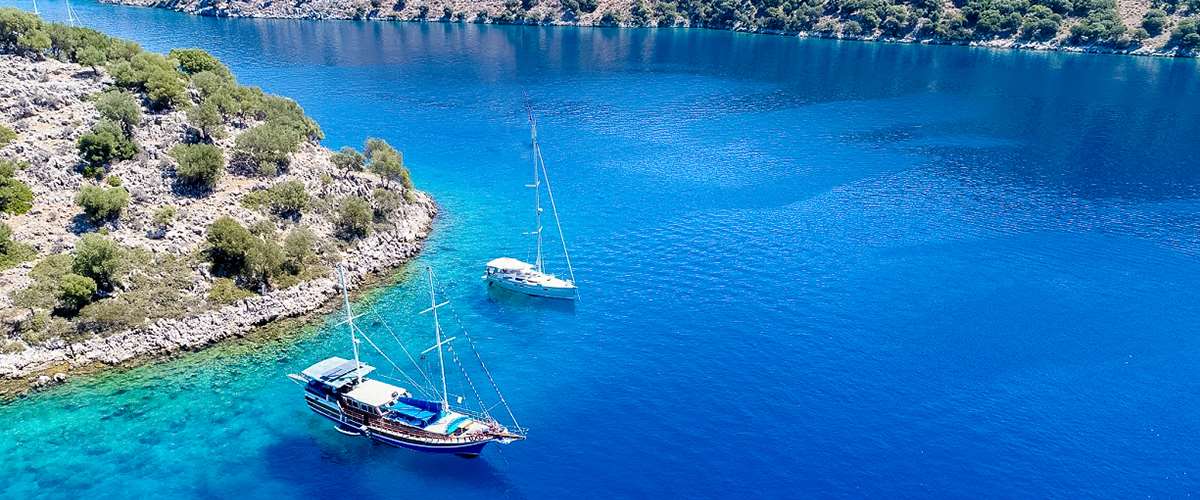 Gulet Charter in Turkey
Gulet Charter in Turkey is the original and most arguably the best destination for all possible types of gulet charters. Turkey is the home of the classic gulet charter route known by many as the famous gulet cruise. Plus, Turkey is the home of gulet building and everything required to ensure an amazing charter experience for you and your guests. The lengthiness of the gullets changes from 12 m length to 55 m length. And the number of cabins changes from 2 to 16. Every cabin in the gulets has its private bathroom facilities and air conditions. So, they are all well and clear cabins. The crew members; a chef, servicemen, sailors, and captains (hostess if you rent a deluxe gulet) welcome you with their smiling faces. If you are interested in Turkish cuisine, you taste Turkish meals thanks to the best chefs. But if you want to eat your traditional food, our chefs also do their best about it.
Gulet charter in Turkey, where the Aegean Sea meets the Mediterranean Sea, offering clean seas, a wonderful warm sunny climate. An interesting and stunning coastline, with the added advantage of being able to visit the closely located Greek isles. It's possible to find lots of gulet options can sail Greek Islands in two cities of Turkey. There is a great travel network connecting many international airports. It is well served by flights from all over the world, especially in the summer months.
Make Your Dream Holidays in Turkey Come True
Turkey also has an incredible history. With unrivaled places of interest for sightseeing, colorful culture, and an extremely tasty, healthy, and varied cuisine. Not forgetting the famous Turkish hospitality, where nothing is too much trouble to ensure visitors' comfort and a truly unforgettable experience for all!
Gulet Charter Turkey can offer you a great range of base ports to embark on your charter, Marmaris, Fethiye, Bodrum, and Gocek are the most popular choice for embarkation, whether you want to include, shopping and nightlife, or tranquil and natural life. On these coastlines, there are so many amazing towns and bays that you will feel grateful one more time for this holiday. For example, Bodrum and Marmaris are famous for their nightlife. In addition, with beautiful bays Göcek is a more silent city. Fethiye is famous for its prophets. Fethiye stretches in a half circle along the bay protected by 12 Islands. Generally, you see 2 bays in a day; have breakfast with beautiful scenery and have lunch and swim in other beautiful scenery. These bays or islands charm you with their nature, history, and colorful sea. According to the route you chose and weather conditions, it's possible to see multiple bays.
Gulets in Turkey
Turkey can provide all of these options, to best suit you and your guest's individual needs. The range and choice for gulets available for Gulet Charter Turkey are second to no into your gulet charter the possibilities are endless and varied. Gulets are still built in Turkey today by local craftsmen in the traditional way, to the latest technology and safety requirements, whilst maintaining their charm, space and comfort, and well-known service. Also, Turkey can provide options for all other types of yachts to charter and discover this fantastic region perfect for sailing.



Turkey provides a wonderful introduction to any type of sea vacation, whether you want to experience this type of holiday for the first time. Or alternatively, if you are experienced in sailing, there are so many options and places to explore. There are lots of bays and coastlines to travel to and they all amazed you with the combination of nature and sea. Or simply chill out in this heavenly environment and enjoy the wonderful panorama and hospitality. you will certainly not be disappointed with a gulet charter Turkey, Cruise beautiful Turkish islands and bays.
In July and August, the days are long and hot and the nights are warm. Prices for the gulet cruise and accommodation are the highest at this time. In May & June or September & October, the days are still hot but warmer and the city or sea view is generally more peaceful. The average temperatures are below during the summer months for popular sailing areas in Turkey.