Private gulet charter in Croatia, Turkey, and Greece is the most beautiful and relaxing sea vacation you can experience. That gulet will be only for you and your loved ones. You will enjoy this unique and wonderful experience with your friends or family. Also, a gulet cruise is a perfect way to celebrate a special birthday, anniversary, or family reunion during the cruise. So, chartering a private gulet will provide you with the most exquisite, delicious, and local-sourced food. You will eat delicious meals prepared by your chef and crew on your private yacht.
As Gulet Broker, we have great opportunities to experience private gulet charter in Croatia, Turkey, and Greece.
Private Gulet Charter in Croatia, Turkey, and Greece
We have all of the following factors that will ensure that chartering a private gulet is an experience you will never forget and will want to repeat;
Impeccable service from the crew,
Ample space and comfort and freedom to spend your time on the gulet as you wish,
En-suite fully air-conditioned cabins,
Freshly cooked and delicious meals served outdoors,
Quality time with your chosen family or friends,
Unforgettable and beautiful scenery and surroundings with the most amazing memories.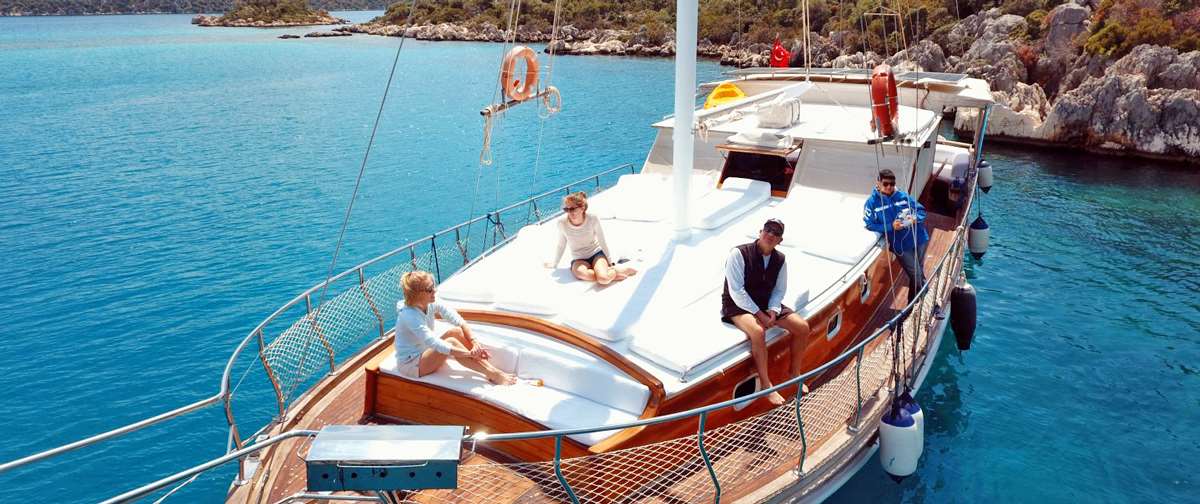 Whichever route you decide on, you are guaranteed an amazing and unique experience that you will not forget forever with a private gulet charter available in Turkey, Croatia, and Greece.
You may want to visit more lively ports or visit quieter and more peaceful areas, we assure you that you will enjoy your private gulet charter anyway. We prepare a travel plan for you to suit your wishes. You are free to choose your route.
Private gulet charter has many options. As Gulet Broker Agency, we have gulets with varying numbers of cabins from 2 to 16. Therefore, any size group can charter a private gulet.
In addition, gulets have different standards. These standards affect the costs.
There are many options from standard type gulets to luxury VIPs.
So there is certainly an available choice for every budget, contact us for more detailed information and offers. We can also customize your private gulet charter to include cycling, hiking, or even yoga. So, anything is possible onboard your private gulet charter.
Contact our dedicated team today for more details and information and relish all a private gulet charter can offer you. We look forward to assisting you with planning the holiday of a lifetime. Turn your dreams into reality with a private gulet charter.