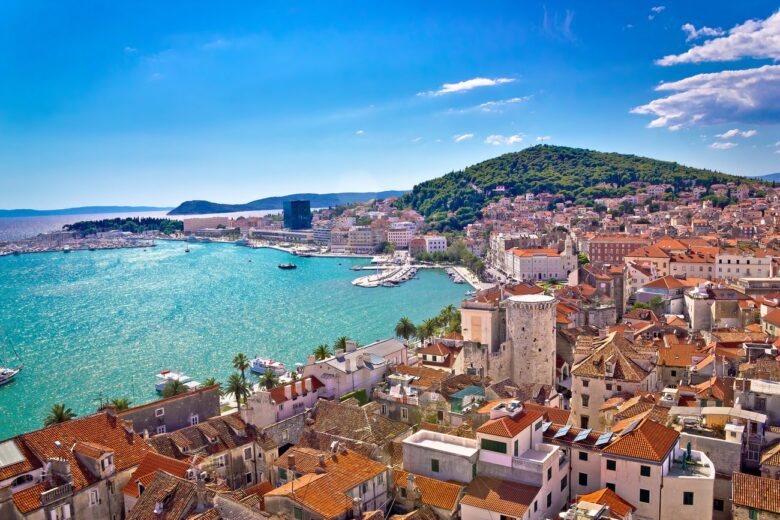 Split and Zadar are both very popular destinations for yacht holidays. So, we offer you a perfect route from Split to Zadar.
Split to Zadar
Split
The starting point of the route Split – Zadar is, of course, Split. Split is connected to the numerous summer resorts of Dalmatia by road and sea links.
It is not just a cultural region of Dalmatia. Also, Split is a tourist and excursion destination. Split is a city with a 1700-year-old tradition and various archaeological, historical, and cultural monuments. It has an absolutely special location. And a warm and friendly atmosphere, including the famous Diocletian's Palace, a UNESCO World Heritage Site. It is a modern Mediterranean city.
Zadar / Kornati
Zadar/Kornati – "On the last day of creation God wanted to crown his work and thus created the Islands of the Kornati from tears, stars, and breath" – wrote George Bernard Shaw. The island of Zadar, which is part of the Kornati Archipelago, is a "wild" port and anchorage where boaters can relax. The oldest document on the fishing trade is from the late 10th century. Thus, it shows that the fishing trade in Croatia started on these coasts. There is no permanent settlement on the island. However, some fishermen and farmers from Murter have temporary homes on the island. It is rich in Mediterranean vegetation, with beautifully cultivated meadows and hillsides, more than 300 species of flora, and equally rich fauna. The undersea world has more than 250 plants. And it has more than 300 animal species.
Zadar
Zadar – Located in the middle of Dalmatia, the most indented part of the Adriatic archipelago. A smaller or greater distance from Zadar is Plitvice. There are Paklenica, Krka, and Kornati national parks. Also Velebit and Telascica nature parks, and more than 300 islands and islets. It has natural beauties, numerous coves, beaches, cultural and historical monuments, restaurants, and hotels offering outstanding national specialties. All this makes Zadar and its surroundings one of the most attractive tourist areas in Croatia. The historical part of Zadar is fascinating for anyone who respects historical monuments and cultural heritage.
Trogir
Trogir is a city museum. It has cultural and historical monuments and art. Also, Trogir has original architecture and beautiful streets. Trogir is a great opportunity for art lovers. There are art collections that have aroused excitement among visitors and travelers for centuries.
Skradin
Skradin is the center of the Krka National Park. It is a vast, largely unchanged region of exceptional and versatile natural value. It also includes one or more preserved or insignificantly modified ecosystems. This small town is one of the oldest Croatian settlements with town status (2nd century BC). It is not far from Skradinski Buk, where the Krka river flows peacefully. It represents the center of life from ancient times. Located between two wonderful waterfalls Skradinski Buk and Roski Slap, the islet has Lake Visovac and a Franciscan monastery.
Telascica
It contains extraordinarily valuable plant and animal life. Geologically, this area was protected as a Nature Park in 1980, thanks to its valuable archaeological heritage on the seafloor.
Three key phenomena are absolutely the main features of the Nature Park: The unique bay of Telascica is one of the safest, most beautiful, and largest ports on the Adriatic, which includes 25 small bays and 69 km of well-recessed coastline. Dugi Otok island has cliffs called "Stene" that rise to 200 m above sea level and drops vertically up to 90 m above sea level. Finally, there is the salt lake called "Mir" with its healing properties.